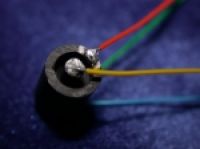 Bonding Solutions for Carbon Based Materials
S-Bond Technologies (SBT) offers graphite bonding services for components that require bonding to graphite, graphite foams, pyrolytic carbon, carbon foams, carbides and diamond. The active elements in SBT alloys and our proprietary joining processes enable us to join any metal and carbon based materials in a wide range of applications.
Bonding graphite or carbon to metal requires special processing to establish a chemical bond with the carbon and graphite surfaces. Joining with S-Bond® (SB) alloys requires a special high temperature / vacuum metallization with a specially formulated SB paste suspension that is conducted at our SBT facility or at customer sites under special license. After the treatment, the reaction of titanium in the paste suspension with the carbon base materials creates a metallurgical bond.

Pictured to the left are graphite foams that have been SB metalized then bonded between two aluminum plates to make a graphite foam cored heat spreader.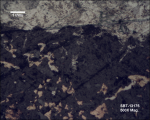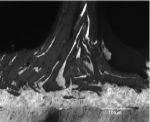 The figures to the left show the cross section of (top) graphite carbon and (bottom) graphite foam (cell webs). The figures show the excellent interaction and infiltration of the SB alloy that creates a chemically bonded structure. After this treatment, the graphite or carbon surfaces can be readily soldered using the SBT process at conventional soldering temperatures (200 – 280ºC), depending on the solder used in the joining. NOTE: Once the SB metallization is complete, any solder filler may be used on the carbon/graphite bonding surfaces, providing it is fluxless and uses mechanical agitation to disrupt the solder's oxide surfaces during assembly
S-Bond® joining techniques have the following characteristics:
No flux.
No filling of pores when joining foams.
No pre-metallization required.
Joins carbon based materials to most metals, ceramics and composites.
Joints are made at lower soldering temperatures and can be reworked.
SB joining mitigates thermal expansion mismatch issues experienced in brazing.
S-Bond® alloys include:
S-Bond 115 & 130, which join from 115 to 130°C with Sn-In base
S-Bond 140, which joins at 140°C with Bi-Sb base
S-Bond 220, which joins from 250-270°C., with Sn-Ag base
Alloy 400, which joins from 410-420°C, with Zn-Al-Ag base
Thermally conductive, over 10x that of filled epoxies
S-Bond® Alloys wet and adhere to the bonding surface of the graphite and graphite foams, carbides, carbon and diamond, after a pre-treatment with S-Bond metallization, the graphite / carbon / carbide based materials can be joined to electrical leads, metal face sheets or other types of metals and composite structures. When bonding graphite foams, SB alloys wet and encapsulate the Gr-foam webs, leading to adherence and gripping around the Gr-foam webs, thus creating strong and thermally conductive joints. SB joining is an effective method for bonding highly conductive graphite foams to metallic and composite face sheets.
SBT provides a range of versatile graphite bonding fabrication services for joining components such as:
Graphite foam-core cold plates
Graphite foam heat storage units
Thermal management devices
Diamond or diamond composite heat sinks
SiC armor plates
SiC based power electronic assemblies
Wear plates and surfaces
Graphite conductors and feedthroughs
If you would like someone to contact you or provide information, please submit the information below.