S-Bond alloys can wet and bond metals and all combinations of metals. There are, however, differences in the level of metallurgical interactions and in the strengths of the resultant joints. For copper and aluminum, the bonding mechanisms are metallurgical with S-Bond's active nature, disrupting the oxides that form on Al and Cu. For other metals that form tenacious oxides, such as stainless steel and titanium, S-Bond bonds adhesively with no resolvable metallurgical reactions. These figures illustrate typical joint microstructures that are achieved in a variety of metals. If you do not see your metal joint structure,
Contact Us and we can offer updated information or conduct evaluations. Almost all metals and metal combinations have been joined.
The first micrograph is a copper to S-Bond 220 bond, joined in air and without flux or surface treatment.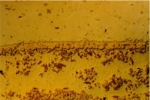 On the left, stainless steel has been bonded to itself using S-Bond 220. A dense adherent joint has been produced with good wetting at the interfaces. Due to the low relative joining temperatures there is no discernible interaction, yet good joint strengths have been measured. With stainless steel, higher interface strength can be developed through the use of a proprietary surface bonding treatment that creates a permanently solderable layer on the stainless steel prior to joining.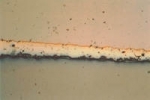 Stainless Steel, S-Bond 220, Aluminum
A dissimilar metallic joint is demonstrated in the joint shown in the micrograph at left. Aluminum and stainless steel would normally be very difficult to bond to; however, S-Bond products enable such joints to be made without flux, preplating, and in air.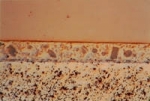 Titanium, Titanium/S-bond, Titanium Bonding
The micrographs above show that SB220 has wetted and joined Ti to itself, using no flux and no pre-coatings. The detail, a high magnification photograph, shows that a continuous interface has been formed but, as in the case of stainless steel, the low joining temperature (250°C) has limited metallurgical interactions. The bonding strength to both titanium and stainless steel can be improved by the use of our proprietary process to covalently bond our materials to the metal surface.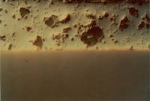 The figures below demonstrate the joining of aluminum in many combinations. On the aluminum side of these joints, a metallurgical interaction forming Al-Ag intermetallics has occurred, demonstrating that good interpenetration between the solder and the base metal has been achieved.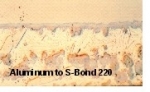 Contact Us to discuss how S-Bond's dissimilar metal bonding solutions for aluminum bonding, titanium bonding and all combinations of metals can be used. For more informatoion and updates refer to the Technology & Appications White Paper webpage and the Blog.
If you would like someone to contact you or provide information, please submit the information to the right.