Our engineers, technicians, and scientists are experienced in all aspects of joining and assembly processes. From initial assessment of design requirements to fully bonded, finished parts, we provide the technology and expertise to meet your bonding needs.
Our bond assembly technologies include: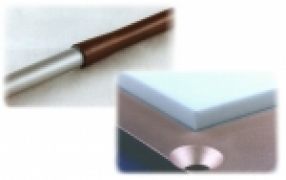 As part of our commitment to service, we provide:
Full "make complete" or turnkey manufacturing of components that require bond assembly.
Low to High volume contract bonding.
Recommendations on process and design optimization.
When assessing your bonding requirements, we will propose the most suitable bonding methods from our portfolio of capabilities, listed above.
Our signature bonding technology, S-Bond, has emerged as an alternative to brazing and conventional soldering in a wide range of applications. As we assess your bonding requirements we will determine if S-Bond joining or other bonding processes are most suitable. Once that assessment is made, we will provide the most suitable process and materials for your bonding requirements.
To read more about how S-Bond's fluxless and lower temperature joining characteristics are currently being used, please see S-Bond Joined Components, Markets  and Applications.
In support of our S-Bond Technology, we provide:
Please Contact Us today for our S-Bond materials and bonding services. We are committed to satisfying your bonding needs through our engineering, design, and manufacturing capabilities.
If you would like someone to contact you or provide information, please submit the information to the right.