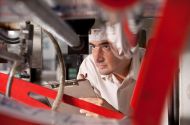 S-Bond Technologies expertise is "active" solder compositions which rely on the additions of active metals (Ti, Hf, Zr) and rare earth elements to solder base compositions. We can develop formulations that either have a specific melting range or a element additions which modify strength, corrosion, or creep. Alloys can also be tailored to have base compositions that are more economical. for example elimination of silver (Ag).
Reasons for Other Compositional Requirements
Specific melting range
Lower cost
Strength
Electrical or Thermal Conductivity
Thermal Expansion
Element restrictions
If you did not see an alloy in our Solder Alloy page that suits your application, we can consider your requirements and may be able to develop active solder compositions that meed your needs
Contact Us and consult with our experts regarding your special needs and requirements.
If you would like someone to contact you or provide information, please submit the information below.