S-Bond can effectively assemble a wide variety of materials or pieces with its unique bonding attributes:
Pb-free (meeting RoHS requirements)
Flux free
No metal pre-plating required
Joins dissimilar materials
Low temperature joining (limits base material changes or distortion)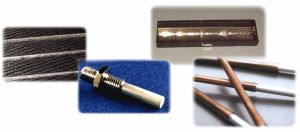 S-Bond is being used to assemble a variety of manufactured components. This section reviews the components that S-Bond Technologies is currently manufacturing at its facility or is supporting at customers' sites. Please preview the various components and applications. If you do not see yours, please Contact Us so we can discuss your specific bonding application.
If you would like someone to contact you or provide information, please submit the information to the right.