S-Bond has applications in surgical instruments aluminum bonding,  steel, titanium alloys, Nitinol, glass, and ceramic metal bonding. Many of the recent applications have been for surgical tools, boroscopes and non-invasive diagnostics equipment with remote sensors.
S-Bond joining is fluxless and does not require plating, thus reducing the sources of contamination on assembled components. This is obviously important where cleanliness is critical. S-Bond has recently made invasive, disposable surgical tools for orthopedic procedures, joining stainless steel cutting edges to lighter, less expensive, non-invasive sections of the component. Other medical related components that S-Bond has made include sensor electrodes, boroscope windows and cutting-cauterizing electrodes.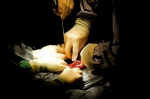 Contact us to review your needs and refer to our Technology and Applications White Papers and our Blog for more information and updates.
If you do not see your application please fill out the More Information box on this page to end us an email explaining your interest and an S-Bond engineer will contact you.
If you would like someone to contact you or provide information, please submit the information to the right.