S-Bond® materials will bond to metal, ceramics and carbide composites individually or if they are mixed as part of a metal matrix composite (MMC's). S-Bond® products have a unique ability to bond to the metal matrix and wet and adhere to the ceramic particles and/or fibers. Alternative processes involve precoating or treating the MMC surface followed by a flux based joining process.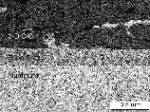 The figure to the left shows how C:C has been bonded with S-Bond 220 to aluminum.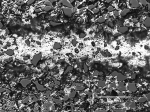 Al:SiC composites are leading candidates for low expansion bases for electronic substrate heat spreaders, replacing copper and aluminum. Al:SiC composites are also finding use in precision machine tools where low CTE and high stiffness are essential for positioning accuracy. Shown at left are S-Bond 220 joints between Al:SiC and Kovar® (a low CTE Ni-Fe-Co alloy).

To the left one can see that another type of Al-composite that has been joined. It is an Al:Gr fiber – metal matrix composite joined with S-Bond 220 resulting in a dense structure with good adherence.
Contact Us to discuss S-Bond's active solder solutions for metal composites bonding, mmc bonding, and all combinations of metal bonding.
If you would like someone to contact you or provide information, please submit the information to the right.