Copper and aluminum are the mainstay materials used in heating, ventilating and air conditioning (HVAC) equipment. Over the past years, aluminum has seen increasing use in the heat exchangers; however, copper is the preferred connection tubing for systems and for external connections. S-Bond alloys and processes are well adapted to copper-aluminum bonding. Since the joining is fluxless, chemical incompatibility issues for joining and later servicing due to corrosion do not exist. Therefore, in the many interfaces in HVAC equipment, especially between Al and Cu, S-Bond offers improvements in heat exchanger fabrication and joining.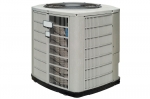 New HVAC equipment is also using ceramics in areas requiring wear resistance. This requires the joining of ceramics to aluminum and copper alloys. S-Bond is well-suited to meet this bonding challenge.
S-Bond® alloys join:
Large, flat area aluminum bonding and/or copper panels with minimal voiding.
Bond fins structures and metallic foams.
Aluminum fins to copper heat sinks.
Aluminum and copper foams to solid surfaces without affecting the integrity of foams.
Recently, vapor chambers and heat pipes are being designed into HVAC equipment. The versatility of fluxless S-Bond joining makes the assembly of such HVAC equipment effective and easy.
Contact Us for an assessment of how S-Bond joining can be used in heat exchanger fabrication and copper-aluminum bonding in the production of your HVAC equipment. Also refer to our Technology Resources Section and the Blog for additional information and updates.
If you would like someone to contact you or provide information, please submit the information below.