S-Bond® has applications in a broad range of industrial markets including power plants, petrochemical refineries, pharmaceutical plants, and electronic assembly plants, all requiring electronics and sensors for process instrumentation and control. Sensors are critical to the operation of such plants and the high speed transfer of information is important, driving a need for higher power electronics necessitating thermal management units. S-Bond joining finds applications in the sensors, electronics, electrical contacts, process cooling and enclosure sealing. S-Bond's ability to join metals, dissimilar metals and ceramics make it an excellent choice for assembly of many components. S-Bond joining offers many advantages in areas where repetitive motion or the rubbing of components may cause constant abrasion and erosion. In these applications, ceramics or carbide materials may need to be bonded to metals.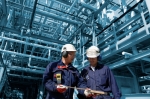 Contact us to review your needs and refer to our Technology and Applications White Papers and our Blog for more information and updates.
If you do not see your application please fill out the More Information box on this page to end us an email explaining your interest and an S-Bond engineer will contact you.
If you would like someone to contact you or provide information, please submit the information to the right.