Joining Solutions Prototypes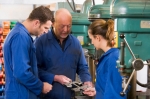 S-Bond Technologies has an experienced development staff and fully equipped Development Laboratory dedicated to providing S-Bond joining solutions from the simplest to the most demanding applications.
Our customers often assess the suitability of the S-Bond joining solution with testing conducted on components that have been assembled by our experienced staff.
In order to meet their needs, S-Bond Technologies offers prototyping services where actual components are assembled using the same procedures that will be used in the proposed production process.
This prototyping stage offers our customers the most experienced assemblers and permits a full evaluation of a production process.
Our prototyping services, if requested, may include a fully documented process, photographs, and as needed, instructional video.
Contact Us and we would be pleased to offer our prototyping services to find your joining solutions.
If you would like someone to contact you or provide information, please submit the information to the right.