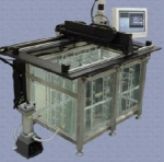 Acoustic Imaging (C-SAM) Services
S-Bond Technologies offers Ultrasonic C-Scan inspections of flat interfaces with high frequency (1 – 150 MHz) acoustic waves that penetrate a part while it is immersed in a water-filled tank, which reduces surface sound losses. These high frequency acoustic waves reflect off of interface defects, sending time resolved signals back to the acoustic sensor. Scanning back and forth, a part can be interrogated across its entire bonded surface looking for sound discontinuities that normally indicate disbond.
Contact Us  with your ultrasonic inspection requirements.
If you would like someone to contact you or provide information, please submit the information to the right.