Graphite is a relatively inert and stable material and is one of the allotropic forms of carbon. In plane, carbon atoms are bonded covalently while across atomic crystal planes there is a component of metallic joining where electrons are free to move along graphite's flat/hexagonal crystal planes leading to good electrical and thermal conductivity. Due to the nature of the covalently in plane bonded carbon, it is difficult to metallurgical bond to a temperature below 800C so creating a bond to graphite requires specialized processes and materials.
Graphite is found in many forms but major forms include…
–  Solid Graphite: pressed, filled and sintered powders
–  Graphite Foam: liquid carbonaceous precursors foamed and graphitized.
–  Pyrolytic Graphite (TPG): vapor deposited epitaxially grown carbon layers
Applicable methods for joining graphite will depend on the graphite structure resultant from their manufacture.
Metallurgical methods for the bonding of graphite include:
S-Bond Technologies has developed 
active soldering
 (< 450˚C) methods for graphite bonding that starts with S-Bond metallization treatment followed by active soldering with it active solders to most metals, ceramics, and glass. Such active soldering processes eliminates the need for chemical flux which can be absorbed and thus contaminate the graphite components.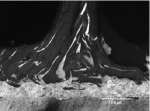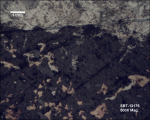 The figure to the left illustrates the structure of the S-Bond soldered interfaces on solid and on foamed graphite. The reactions with active solders' reactive elements, generate a reacted "solderable" surface to which metals, glass, ceramics and other crystalline materials can be bonded.
Brazing (> 450˚C) is another graphite bonding method that use molten active braze filler metals with Ti, Hf or Zr additions. These braze processes are normally done at temperatures above 800˚C and in vacuum so not to oxidixe or decompose.
Graphite Bonding Applications: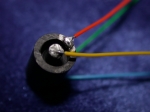 Sensors: normally require electrical connections for signal detection.
Thermal Management: TPG with it diamond like in-plane thermal conductivity is used in heat spreaders and heat straps (moving heat) and graphite foams are used in transient Phase Change Material (PCM) heat sinks and/or in cores of heat exchangers.
These applications all require bonding graphite to a host of materials.
Contact us today for more information on the use of our active solders and graphite bonding services for your applications. 
If you have interest and would like more information on the bonding of graphite, use the More Information box on this page and indicate your interest.  
Find more information and continual updates on how to bond graphite in our Technology & Applications Whitepapers and our Blog.
If you would like someone to contact you or provide information, please submit the information to the right.
If you would like someone to contact you or provide information, please submit the information to the right.