The ever increasing need for bandwidth and speed are driving the use of higher powered electronics in telecommunications in local broadcast vans, cell towers, central servers and satellites. High power electronics require unique and dedicated thermal management systems consisting of passive heat sinks, finned heat exchangers and actively-cooled cold plates. The materials of choice are often aluminum (Al), copper or a combination of the two, depending upon weight and cost considerations. Recently, more advanced materials have emerged as a substitute for Al and Cu such as graphite, aluminum and silicon carbide (Al:SiC) as weight reductions and increased thermal performance are needed. S-Bond alloys have been show to be effective in aluminum bonding, ceramic metal bonding and graphite bonding, hence the S-Bond technology has wide applicaion in this market area.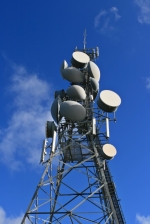 Contact us to review your needs and refer to our Technology and Applications White Papers and our Blog for more information and updates.
If you do not see your application please fill out the More Information box on this page to end us an email explaining your interest and an S-Bond engineer will contact you.
If you would like someone to contact you or provide information, please submit the information to the right.