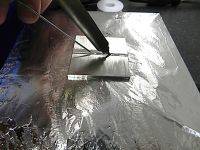 Aluminum soldering is used in making small area electrical and/or thermal connections to other metals or ceramics, whereas aluminum bonding is used to join large areas for either thermal and/or structural purposes. Aluminum soldering generally finds applications in sensors, electronics, and electrical power where aluminum contact and/or wire leads are being utilized. Soldering aluminum and soldering aluminum to copper are some of the most common applications for S-Bond. It has also been used as a means to seal and/or repair aluminum heat exchangers.
S-Bond® active alloys have been developed to join to a wide range of metals, ceramics, and composite materials without the need for fluxes or pre-plating. S-Bond solder alloys have a strong affinity for joining to aluminum, making aluminum soldering simpler, more cost effective, and more reliable. To join aluminum, just melt the S-Bond filler metals or mechanically agitate S-Bond solders by brushing, rubbing, or with ultrasonically activated solder irons to wet, adhere, and provide a base for joining. Once tinned with S-Bond solders, wire leads or other surfaces to be joined are pressed or slid together, or ultrasonically activated, to create a strong solder joint.
S-Bond Aluminum Soldering has the following advantages:
Permits the joining of aluminum to copper, other metals, and ceramics without flux.
Flux-free joining eliminates contamination and need for cleaning.
Lower temperature solders (from 115°C – 250°C) permit soldering to thermally sensitive materials.
S-Bond (solder) produces metallic joints that are electrically and thermally conductive.
Metal plating is not required to prepare aluminum surfaces, lowering preparation costs.
S-Bond solders do not flow freely and do not bond to areas adjacent to the aluminum soldering location without the direct application of mechanical activation.
Choosing the Right Solder Alloy
For most soldering applications between aluminum and copper, S-Bond Alloy 220-50 are used. In instances where metals such as stainless steel and titanium or ceramics such as SiC, AlN, Al2O3, or graphite (carbon) are soldered to aluminum, then S-Bond 220 is used. When performing aluminum soldering on thermally sensitive connections, S-Bond active solders that work from 115°C – 220°C are available.
Contact us for more information on aluminum soldering. We also have a series of white papers and a blog where you can find aluminum soldering information. To order our materials for testing, visit our kits page and request a kit order form. Soldering services are also offered for testing, prototyping, and production.
If you would like someone to contact you or provide information, please submit the information to the right.