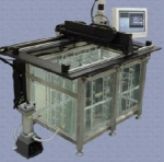 S-Bond Technologies offers a range of bond testing for our customers.
Acoustic Imaging Services
Non-destructive testing of bonded interfaces is conducted using our high resolution, C-SAM ultrasonic imaging equipment.
Our equipment can image up to 1200 x 600 mm size flat interfaces to non-destructively determine the level of bonding (% bond) over large flat areas.  S-Bond also offers helium leak detection services to fully verify the hermeticity of leak critical joints.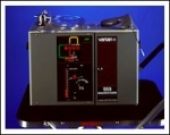 Acoustic Imaging Services
A Varian Model 959 Helium leak detector provides leak integrity measurements to a sensitivity of 1 x 10-9 mmH – l/sec. We can provide such services in development, prototype and production stages.
Our test capability is an excellent process development tool as well as a production inspection capability.Through our network of local service suppliers, we can offer a full range of mechanical testing and metallographic destructive testing. These services are invaluable in the development of new joining processes.
Contact Us with details about the bond testing and joint integrity testing required for your components. See our Technical Resources section and our Blog for more information on our experience and capabilities.
If you would like someone to contact you or provide information, please submit the information to the right.