Automotive & Transportation
S-Bond is providing joining solutions in the automotive and transportation industries, specifically in thermal management, battery interconnections and electrical energy transfer. With the commercial advent of hybrid and electric automobiles, both the cooling of high power, conversion electronics and battery interconnect terminals are areas where S-Bond joining is an effective solution. S-Bond is used in aluminum bonding and can bond aluminum to copper effectively, without flux, to produce a large, completely void-free bond area, that does not entrap flux. These large bond areas are typical of cooling plates used in the cooling panels for the solid state electrical conversion components in hybrid and electric vehicles. Currently, several Formula One race car companies are using S-Bond in this capacity. S-Bond is also being evaluated in joining Al and Cu on battery terminals.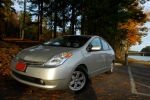 Contact us to review your needs and refer to our Technology and Applications White Papers and our Blog for more information and updates.
If you do not see your application please fill out the More Information box on this page to end us an email explaining your interest and an S-Bond engineer will contact you.
If you would like someone to contact you or provide information, please submit the information to the right.