Active Solder Compositions
S-Bond Technologies initially developed (1996) a Sn-Ag-Ti active solder alloy that was found to bond to most metals, ceramics and composites. S-Bond® solder formulations bond without the use of flux or preplating and are lead and cadmium free and conform to the requirements of all lead free solder initiatives (RoHS, etc.).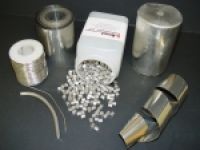 Since the inception of the first S-Bond 220 alloy, S-Bond Technologies' other alloy compositions have emerged as solder compositions with specific purposes and applications. The need have active at lower and higher soldering temperatures drove the development of the many compositions listed in the table below. In the table below the bold face compositions are our Commercial Productions Alloys, the other alloys are Development Alloys, which means our Development Lab has tested them, but not released them for commercial production, due to limited demand. 
Commercial Production Alloy compositions are available as ingot, wire, pellet and by special order most can be made as foil. Development Alloys are only available in small ingot forms. Under special orders, these Development Alloys can generally be made into forms other than ingots.
NOTE: S-Bond solder alloys are not available as powders or pastes due the high surface areas of powders and their very "reactive" compositions that will oxidize due when melted in atmosphere.
For Property Data and Application information on our alloys refer to our Technical Resources section of this website.
Contact us with questions about S-Bond solder alloys or send us an email using the More Information section on this page.
Table of S-Bond Alloy Compostions and Bonding Temperatures
S-Bond® Alloys

Joining Temp (ºC)

S-Bond 115 (In-Sn) **

Low temperature for sensitive materials

125-130oC

S-Bond 130 (Sn-In)

Low temperature for electronics

140—150oC

S-Bond 140 (Bi-Sn)


Low temperature for thermally sensitive materials and assemblies… metals, ceramics, glass, LED's and heat pipes and vapor chambers.


150—160oC

S-Bond 190(Pb-Sn) **

For hierarchical joining

200- 210oC

S-Bond 200 (Sn-Zn) **

For Pb and Ag  free joining, offering lower temperatures that SB-220

200—220oC

S-Bond 220 (Sn-Ag-Ti)

Most versatile Pb free joining

240—260oC

S-Bond 220-50 (Sn-Ag-Ti)

For joining Al and copper

240—260oC

S-Bond 220M (Sn-Ag-Ti-Mg)

For joining silcon, glass, ceramics 

240—260oC

S-Bond 400 (Zn-Al-Ag)

Highest temperature active solder

420—430oC

** NOTE: these alloys are development alloys and are available in limited quantities and forms.

 
If you would like someone to contact you or provide information, please submit the information below.