Ultrasonic Soldering Irons and Pots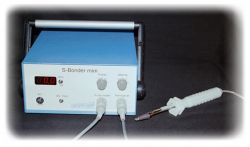 Ultrasonic Soldering Equipment
S-Bond Technologies (SBT) is a producer of active solders that work very effectively when mechanically activated using ultrasonic energy, either with u/s soldering irons or u/s soldering pot.  The acoustic (mechanical) energy these devices impart to the surfaces of the molten S-Bond solders disrupt the solders own tenacious oxides and thus permit the "active" elements (Ti and Ce) to be in direct contact with the underlying materials being joined. In combination, u/s energy and reactive elements, make excellent solder joints.
Ultrasonic soldering uses either vibrating ultrasonic (u/s) soldering iron tips or soldering pots that have ultrasonic horns embedded in the solder or mounted onto the heated solder containers (pots).
Ultrasonic Soldering Irons
 These devices, either hand or machine held, employ an ultrasonically vibrating heater iron tip to vibrate a molten solder layer. In these u/s soldering irons, piezoelectric crystals are mounted in the handle of such devices and are coupled to axially vibrate metal horns with integrated (machined) solder tips. The horns/solder tips typically pass through a heater cartridge or have wound resistively heated wires near the solder iron tip. This design assures that the horn/solder tip is vibrated at ultrasonic frequencies, typically from 20 – 60 kHz. Commercial units have a control console that controls the power for ultrasonics (10 – 50W) and heating power with temperature controls for controlling solder tip temperatures. The images below show some typical units and soldering iron tip configurations.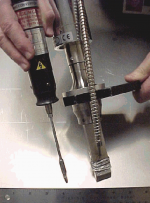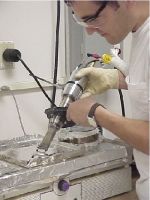 Companies that make ultrasonic soldering iron units include…
Sonikks GmbH
MBR Electronics
Sanwa – Sun Bonder.
Japan Unix
SolBraze.
S-Bond Technologies (SBT) has a development laboratory with Sonikks and MBR units to make customer parts and/or to demonstrate the technology before one makes a purchase decision. SBT offers assistance in making selections and purchases of equipment, as needed. Please Contact Us regarding these units, although we do not yet sell these units, we can assist with your selection.
These devices are dip solder pots which eliminates the need for flux while providing a means to bond solder to aluminum and glass that are difficult to solder using conventional soldering techniques. In it laboratories, SBT has ultrasonically activated dip solder pot for customers to evaluate and is available for use on customer components.
There are two types of soldering pots:  
U/S activated by externally mounted transducers mounted on the heated dip pot, these types allow large volume multi-part dipping and Companies that sell the dip units are Blackstone-NEY Ultrasonics and Advanced Sonics.
U/S baths that use ultrasonic horns which are directly submerged into the solder bath. A company that sell such units is Solbraze.
Please Contact Us, for more information or assistance in testing, selecting, using or specifying ultrasonic soldering equipment and processes. Also see our Blog and Technical Resources section for further information.
If you would like someone to contact you or provide information, please submit the information to the right.