S-Bond Technologies offers a series of different S-Bond Soldering Kits as a way to experiment with the use of our S-Bond materials in applications. Each kit provides choice of our S-Bond alloys and a CD manual outlining how best to apply and activate the material. Other kits offer tools for mechanically activate the S-Bond alloys.
More advanced kits offer additional tools for conducting joining tests, such as hot plates, and telephone/email application engineering assistance.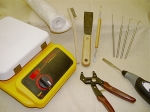 Please Contact Us for information on pricing and delivery of…
Test Kits: this kit provides a smaller amount of S-Bond alloy for customers to evaluate the alloys in their application.
Introductory Kits: this kit contains additional material and common tools for applying the materials.
Standard Kits: this kit is for experienced customers seeking to develop a specific application and need additional tools.
Deluxe Kits: a complete kit with all of the tools needed to do S-Bond® joining right from the box, including hot plate (for US power only)
See our Technical Resources pages for additional information on our S-Bond Soldering Kits, materials, processing, and application.
Kit Request
Thank you for your interest in our S-Bond Kits. Please submit the information below and we will email you a kit order form. Additionally, if you share with us your application in the text box, we can make recommendations to the alloy and any special instructions.
If you would like someone to contact you or provide information, please submit the information below.