While high-priced super cars are the biggest beneficiaries of advances in the use of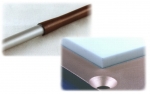 lightweight carbon-fiber, car companies are looking to find weight savings across their model lines. As they do so, efforts to find effective bonding solutions for dissimilar materials will become critical.
Recent discussions by automotive engineers and composite material makers at automotive conferences focus on the difficulties in managing disparate thermal expansion rates where aluminum expands at a much higher rate than carbon fiber. There are even slight differences between mild steel and fiberglass options that can impact the construction process.