S-Bond active soldering of silicon carbide (SiC) has recently been demonstrated on a range of electronic and optical components, providing for metal to SiC joints in plug, mounting and/or water cooling fittings. Silicon carbide is ceramic semiconductor with good thermal conductivity (120 W/mK) and low thermal expansion ( 4 ppm / °C). Thermal conductivity is comparable to aluminum with 1/8 of aluminum's thermal expansion coefficient (CTE), making it a very stable material. The manufacture techniques for SiC and Si:SiC have recently developed to permit more complex SiC based components. As a ceramic, SiC is very difficult to machine so normally powder sintering and infiltration and/or slip casting and sintering followed by infiltration is used making for making complex shapes. Because of its thermal, electrical and optical properties, SiC and SiC composites are seeing increased industrial application in electronics and optics thus driving an interest for robust SiC joining methods. For high temperature SiC applications vacuum active brazing has proven effective; however, for lower temperature electronic and optical applications, there has been interest in solder joining methods.
The solder joining of SiC and SiC composites to metals have been a focus of S-Bond Technologies and it has developed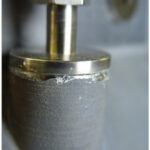 bonding methods that incorporate the use of it active solders to bond SiC, ceramics and metals. S-Bond has successfully
bonded SiC and Si:SiC to metals such as stainless steel, Kovar, aluminum and copper to make mechanical connections, plugs and water fittings. Figures 1-2 below illustrate several stainless steel water fitting connections on SiC. The process starts with placing "S-Bond
metallization paste" onto the SiC areas that will require bonding and firing the paste at elevated temperature in vacuum. The elevated temperature causes the active elements in S-Bond paste to react with the SiC surfaces and produces a chemical (metallurgical) bond to the SiC surface that prepares the SiC surface for soldering [for other information on ceramic S-Bond joining, Click Here] .
Figure 3 shows the "as reacted" paste on the surface of a SiC feed through area where a metal fitting is to be bonded. The S-Bond metallization process is complete when the excess reacted solder paste is "scraped" off, exposing a shine S-Bond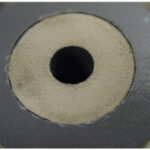 metallized layer on the SiC surface, as seen in Figure 4. This metallized surface then can be soldered by adding a fresh layer of S-Bond 220 or other solders then bonding a "S-Bond (solder) tinned" metal surface.
These SiC to stainless steel joints are as strong as any solder joint and the joints are hermetic. Within the constraints of coefficient of thermal expansion (CTE) mismatch, any metal can be joined to SiC using the S-Bond active solders and processes. S-Bond active soldering has been demonstrated in a range of applications, showing that S-Bond can meet
many exacting bonding requirements in electronics and optics.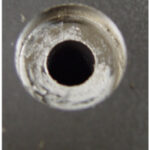 For further information, Contact Us.