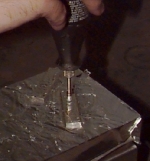 While it has been several years since manufacturers began moving to lead-free solder procedures, in part due to the European Union's Restriction of Hazardous Substances Directive, some still believe myths that have long been inaccurate regarding the use of alloy joining materials that do not require flux and are based on lead and tin.
Temperatures Can Be Enough to Destroy Components
The first round of lead-free solder options to join metals and other materials were comprised of tin, silver and copper, which do have a slightly higher melting point of 217 degrees Celsius compared to existing solder's 183 degrees Celsius. That disparity could cause problems regarding PC board damage.
However, newer products including several offered by S-Bond have significantly lower melting points that make it easier to join metals like aluminum. At the lowest temperatures, some materials can be joined at just 115 degrees Celsius.
Issues Regarding Silicon Will Require Other Materials