Raw materials costs can quickly make it difficult for companies to maintain their profit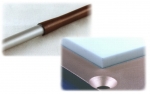 margins on a given product. At a time when copper prices have been steadily increasing, it may make sense for firms to look at other materials. Yet to do so, they may also need to consider alternatives to achieve dissimilar materials joining.
Companies in China are moving from using copper in cabling to using aluminum, a Metal Bulletin report indicates, where just 10 percent of total production uses the metal compared to roughly 50 percent in the U.S. and even more in other developed countries. The rationale is that the cables can be priced 20 to 30 percent cheaper due to the decrease in material costs. Similar moves are occurring throughout the electronics industry. Yet without the use of specific metal solders to join materials, adapting designs can be extremely difficult.
The coefficient of thermal expansion, or how a metal piece will grow in volume and length due to exposure to heat, is significantly higher for aluminum compared to copper. Linearly, an aluminum component will expand 36 percent more under the same heat as one made from copper, and the same is true in terms of volume. To account for this, engineers must either redesign their product in order to minimize the risk of cracking other parts, or use metal joining solutions that require less heat.
Doing so will help companies who are considering ways to reduce the cost to produce electronics and other equipments. This both benefits consumers by allowing prices to remain constant or potentially drop, and smooths out budgeting for materials costs for companies by allowing them to move from metals that have volatile pricing.
Learn more about material pricing, especially for copper at http://www.metalbulletin.com/Article/3274457/Aluminum-alloy-will-continue-to-replace-copper-in-Chinese-cable.html (subscription required, free trial available)