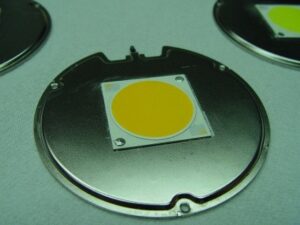 S-Bond Technologies has developed S-Bond® 140, a new, lower temperature active solder that melts from 135 – 140°C. This new alloy is formulated with a Bismuth-Tin (Bi-Sn) eutectic base composition, which is then alloyed with active elements and rare earths.  The resulting S-Bond® 140 active solder successfully bonds a wide range of materials without the requirements of flux or pre-plating.
Lower bonding temperatures enable multi-step soldering operations, mitigating the risk of remelt where previously soldered connections or seals must remain intact. Active solders that melt below 150°C are also finding use in thermally sensitive applications, replacing Sn-Ag based solders that melt over 215°C and cause thermal degradation of the component parts being assembled. Lower temperature soldering also provides processing advantages when bonding dissimilar materials where thermal expansion mismatch many times fractures or distorts an assembly's component parts.
Dr. Smith, President of S-Bond Technologies, states that "S-Bond 140 is already finding application in glass-metal seals in electronic packages in the avionics industry, where higher temperature soldering alloys would have damaged the packages' components. We are also using S-Bond 140 to bond LED packages to heat pipes and vapor chambers to protect the thermally sensitive phase change fluids from damaging the devices when solder bonding. We see major market potential for this active solder composition.  It is an economical bonding solution, since it does not rely on expensive Indium in its base."
For more information on S-Bond 140, please contact S-Bond Technologies at (215) 631-7114 x 102 or email [email protected].